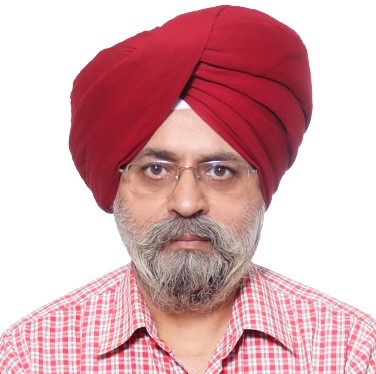 Dr. Satnam Singh
Welcome to the School of Chemistry and Biochemistry (SCBC)! The school happens to be one of the most productive, young and vibrant schools in the Thapar Institute of Engineering and Technology (TIET). If you are exploring the possibility or are interested to pursue your Masters' and Ph.D. degree in either Chemistry or Biochemistry, this school is a right place to do so.
SCBC was established as an independent school in 2002 with an aim to promote teaching and research in Chemistry. The Masters' programme in Chemistry was initiated in 2007 with an intake of 20 students that saw an enthusiastic rise in the number of students in a decade. Considering the ever-increasing importance of the interdisciplinary research ties between Chemistry and Biology, another section on Biochemistry was started jointly by Department of Biotechnology and SCBC in 2015. The Masters' programme in Biochemistry has also received a satisfactory response in the recent years leading to a steady increase in the number of students. Apart from the Masters' programmes, the School also offers an active research (Ph.D.) programme in both Chemistry and Biochemistry. Additionally, a course on Applied Chemistry is offered to the TIET engineering undergraduates who pursue B.E./B.Tech. degrees. So, we hope that you will find the right programme to pursue your career goals in either teaching, and/or research or industry.
Our school has exceptionally qualified and strongly motivated faculty who have earned their doctorate degrees and have gained postdoctoral experiences from reputed institutes in either India or abroad. The scope of research interests of our dynamic and dedicated faculty members spans across a broad range of Chemistry and Biochemistry namely, Organic Synthesis and Medicinal Chemistry, Chemical Sensing and Environmental Chemistry, Chemical Biology, Catalysis and Nanochemistry as well as Computational Chemistry. Our school is one of the most productive departments in the TIET in terms of research publications in peer-reviewed, SCI journals, setting up national and international collaborations as well as receiving many competitive, high-budget research grants. Accordingly, our teaching and research laboratories are well-equipped whereby the research labs are equipped with specialized instruments (viz., TGA, GC, GC-MS, HPLC, Fluorimeter, FTIR, UV-Vis, NMR, etc.) that are required for specific projects of the research groups led by each faculty member.
Our Masters" students have brought accolades to our school by receiving highly competitive summer research fellowships, by getting admissions into PhD programs of institutes of both national and international repute and some of them have been offered positions in industries. Additionally, many of our PhD students had received postdoctoral offers from several institutes in abroad and a few of them are placed well in industries. Overall, I believe that our school provides an exciting and stimulating atmosphere which drives both the students and the faculty to excel in their academic pursuits. If you want to be a part of this dynamic school and are looking forward to an exciting career, join us! Our experienced faculty members, students and alumni can provide the required guidance that will facilitate the process of realizing your cherished goals.